If you're a short term rental host, whether on AirBnB/Vrbo or another platform, there's a good chance you've been hit by this pandemic.
And hit HARD!
According to AirDNA, a research and data analytics company for property investing, new bookings are down 85% and cancellations are up 90%!
Imagine that. No new bookings coming in and 90% of the ones you DO have disappear.
Some hosts who are doing rental arbitrage and have dozens to hundreds of properties are being wiped out. Mortgages are defaulting. And no one is traveling.
It's a MESS.
Even our own plans for hosting have been put on hold indefinitely. But we've been keeping an eye on message boards and listening to what people have been up to. And depending on where you live, there might be some hope.
Here are 6 ways AirBnB hosts are surviving Covid-19.
---
Summary
Homeowners and businesses are tapping into unemployment benefits/forbearance plans and rental arbitrists are striking deals with their landlords to negotiate lowered rents.
Hosts are extremely angry with AirBnB issuing refunds outside of the extenuating circumstance policy and are looking into solutions for direct bookings.
Essential workers who travel and long term tenants are top priority.
Online streaming in the Experiences program on AirBnB is how many hosts are keeping revenue flowing.
---
6. Forbearance For Owners/Renters
Another term for "screwed," but it might be an option for both home owners and rental arbitrists (a word I just made up) if the terms are right.
In case you're unfamiliar, forbearance is when your payments are postponed for a short period of time so you can have a chance of getting caught up with a new job or business.
And if there was ever a time when it was okay to play this card: right now would be it. Especially since it's mandated by the government to allow it.
Many lenders are even making it very easy to sign up for. Maybe TOO easy.
Depending on your terms, you may be able to hold off paying your note for a few months and add the payments to the end of the loan.
This is the ideal situation for owners and people who rent from owners where this is an option.
Sean, from AirBnB Automated, even has a one-of-a-kind strategy for cutting a deal with a landlord to help arbistrists stay in the game.
In the video below, Sean even explains how you can use the forbearance plan to offer some sweet deals to potential landlords to gobble up more properties too.
However, Forbearance might not work for you.
Our own mortgage lender made it a bit too easy to sign up for.
In my short quest to see the terms of the forbearance plan, I inadvertently signed up for it at the click of a button. It was one of those "you have to accept the agreement before you read it" things, and they will send you the paperwork.
Or so it felt like.
Turns out the terms were somewhere else on the site.
I didn't bother to look for it until I got a note added to my credit report that the payment was deferred, accompanied by a 50 point drop of my score while I patiently waited for the documents (which still haven't arrived).
After some digging, I found that instead of getting my payments added to the end of the loan, ALL PAYMENTS WERE DUE AT THE END OF THE TERM!
Whoops! I guess I'll be selling my camera after all.
Except, I can't.
They made it impossible to cancel the forbearance plan and pay online unless I got in touch with my case manager over the phone.
Great.
So I guess the moral of the story here is that when forbearance is good, it's good. And when it's not, well…
---
5. Unemployment For The Self Employed/PPP
5th on the list, but first on everyone's hearts.
With the recent laws allowing self employed people who were affected by the pandemic to receive unemployment, now is the time to jump on board!
The travel industry has been decimated by the closures, so if hosting IS your business then you might be in luck.
Perhaps there's a case to be made that your business had to temporarily lay you off and you can personally receive some unemployment benefits through the Pandemic Unemployment Assistance program in your State.
Additionally, you should be able to apply for the Paycheck Protection Program through your bank and EIDL from the SBA (if funds still exist) to pay important expenses like utilities, mortgage/rent, etc.
Many believe that things aren't going to get back to normal for at least a whole year, so we can use all the help we can get.
In fact, it's ultimately up to the TRAVELER (and government) to start feeling comfortable before our calendars fill up again, so it's important to find ways of attracting the few guests who ARE traveling however we can.
---
4. Direct Bookings From Your Own Website
Let's face it, AirBnB has too much control.
And if you didn't think they did before, I bet you do now that they have been giving away refunds despite your cancellation policy like some Johnny-Appleseed prancing through the forest.
Some of it has been for legitimate reasons, but others have had AirBnB give refunds outside of the extenuating circumstance policy for bookings that had already been completed.
Hosts have been calling for blood over this and demanding someone make a competitive platform, but why wait? In fact, that's just going to replace one mobster with too much control for another.
Sure, the new guy might not break your legs NOW, but power corrupts.
So why not make your own?
I'm not suggesting this because we offer website development for your own direct booking site, but because taking control over your own business is ultimately what is needed.
So how in the world are you supposed to get bookings on your own site?
Well it's simple, but not easy. You'll need your own service agreements, a way to accept payment, insurance (which you should already have anyways), and a way to manage calendars so you don't double book.
Oh and don't forget a domain name, web hosting, good images and promotional videos too.
Then you'll have to start marketing your property yourself through ads on Google/Facebook.
You can also contact your past guests and let them know where your place can be found, and voila. A recipe for self-determination (and possibly deactivation from AirBnB if they catch you doing the last part)!
In fact, many hosts are starting to do this very thing through Facebook Pages and services like Lodgify with great success, cutting off the need for AirBnB and being subject to their policies at the knees.
And want to know a secret?
You can advertise directly to people who are intending on traveling to your area on Facebook.
Facebook knows ALL.
---
3. Booking Essential Workers That Travel
Nurses, doctors, photographers….
Okay fine, photographers don't make the list, but I had to try!
Hosts are doing what they can to appeal to essential workers that travel and if you are running Facebook ads to your own direct booking site then you can target the exact travelers you want.
Granted, you can also update your listing on AirBnB to appeal to doctors, nurses, etc. too.
Many hosts are jumping the AirBnB ship and heading straight to FurnishedFinder since that is a favorite of the traveling professional but are experiencing a slew of problems with competition, hidden fees, and unqualified leads.
Others are directly calling companies, hospitals, and agencies to offer their furnished units with much better results.
But what other types of travelers are essential?
You can likely find a list of industries from your State's mandate on businesses that are allowed to stay open and deduce who might be traveling from there. And here is another list that may help too.
I happen to know that there were crews from other states that were working on the oil pipeline here in Washington that would be a good fit, and I imagine you can find a unique market too.
And when you do…
---
2. Long Term Focused Bookings
Pivoting to long term tenants during this time is critical for your survival if you have a short term rental business.
The name of the game right now is to minimize losses wherever you can, and not even thinking about making a profit until this all blows over.
To add insult to injury, hosts all over the country are being shut down for reservations less than 30 days in many cities.
Some hosts are booking travelers for 30-60 days at a small loss too, simply for the assurance that they don't go bankrupt as the alternative.
One of the solutions would be to set your minimum day limit to 30 to insure that you get longer stays, but there's a bit of a side effect to doing that. On AirBnB, your listing will be lower in the search results.
One thing is clear, however.
Get someone in your property for as long as you can!
This might mean you'll have to change your listing up and add amenities that appeal to your target traveler.
It could also mean getting creative with some other businesses in the area to offer special coupons or discounts for staying in your place to outbid your competitors.
But there is one caveat you should be aware of. Long term guests earn tenant rights.
For most people, this shouldn't be a concern.
Professionals don't want evictions on their records, but that doesn't mean there isn't an opportunity for abuse by some malicious actors.
Protect yourself by having your guests sign long term leases before receiving their keys/code, like a regular tenant would. Possibly have a locked mailbox or get a deposit, and consider consulting with a lawyer for your State.
Here in Washington, short term tenants can earn long term rights in as little as 14 days.
The guest that got away.
Back when we got our first property, we had the exclusive 20% off discount offered to the first 3 guests that booked our place.
Not wanting an opportunity to go to waste, we eagerly offered this deal to get our first reviews and it got gobbled up quickly.
Then the last request came.
It was for a 4 month long-term stay. Student intern working at the local Boeing factory, or so we were told.
We didn't realize that the discounts that we offered were stacking, and our $99/night deal was going to be taken for $60/night.
Concerned about long term tenant rights and operating at a small loss, as well as waiting 4 months for our 3rd review, we declined the reservation.
In hindsight, we should have accepted it – because the profit that we thought we were going to make was eaten up with monumental losses as we entered the slow season.
And now the pandemic.
---
1. Streaming Online Experiences
I know what you're thinking, and if you want to stream yourself watching cat videos I've already beat you to the punch (it's not as lucrative as you think).
Jokes aside, turns out streaming during this pandemic is one of the single biggest opportunities you have as a host – and AirBnB makes it easy for you.
I bet you didn't think of this one yet, huh?
Through the Experiences program, you can take your otherwise in person experience and stream it from your phone/tablet!
And since no one can go anywhere, people are bored at home and looking to learn new things. Or be entertained.
Follow a Plague Doctor Through Prague
Take the "plague doctor," for example, where Lucy and David took their experience online.
Without leaving where you are, you'll visit the famous Charles Bridge, walk around the Old Town Square, and go into the Jewish Quarter, discovering hidden gems in the dark streets. We'll stop by the old St. Francis hospital and conclude the tour at the convent of St. Agnes. So, not only will you traverse time, but you'll also get the sense of travel—all from the comfort of your home.

Source
And it's EPIC.
Hidden Houseboat Concert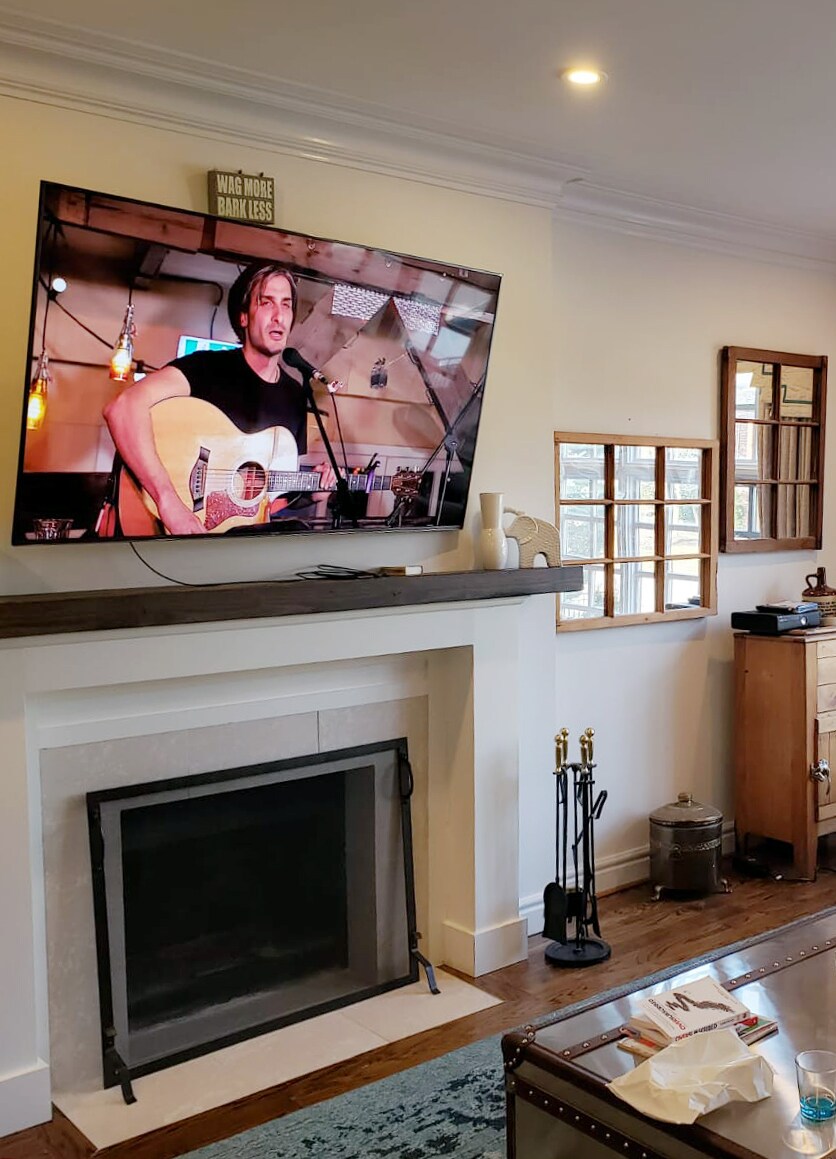 Or maybe you have musical talent and can throw a concert with your friends, like Dean from Amsterdam.
We bring live music straight to your home from our magical houseboat studio in Amsterdam, situated in one of the most sustainable urban developments in all of Europe.

Source
Whatever the case, I think there's room for some experimentation here.
Perhaps you're a nurse and you want to stream the "Covid-19 Experience" or you clean your own properties and want to stream a "cleaning up after you" experience.
Even before this pandemic, I was seriously considering a drive through Seattle called "the Homeless experience" just to amuse myself, complete with a fake mugging.
I guess you'd have to be from around here to understand the absurdity of it all, but I have been advised against this….sigh…Maybe one day.
---
Conclusion
Point is, you have to get creative and now is the time to use the tools at your disposal to survive this pandemic.
In fact, we might even be able to help you create content for your listing/experience.
For us, we found it more rewarding to help other hosts with their listings by providing digital media that separates you from your competition.
And while things are slow right now, perhaps "our" job is to stay home and write blogs like this.
What do you think?